2017 - Ongoing (Italy, USA)
Onion Society presents work from an international and multi-disciplinary group of artists who seek to explore, through the lens of onions, themselves and their cultures.

Using onion skins for color, Liuxu Luo (China), Terumi Saito (Japan), Tess Murdoch (U.S.A.) and Samyukta Easwaran (India), developed original textile and audiovisual work, exploring their own voice through onions, as citizens from countries that dominate the international onion marketplace.

By contrast, audio compilations by Michele Condò (Italy) and Martina Bruni (Italy), imagine the sound of southern Italian onions. Reflecting on the soft power of Italy in the onion landscape, where it cemented an onion brand identity, without being a major producer of the crop.

Onion Society was inspired by the travels of María Elena Pombo, curator of the show, to the south of Italy and the esteem shown by the Calabrian people for their local Tropea onion, the protagonist of different events she has organized there a La Guarimba Film Festival, where it will be presented in August 2019, before having its American debut in New York in September 2019 during New York Textile Month.

The name of the project is a wink to the cosmopolitan and creative lifestyle of the Café Society from the early 20th century.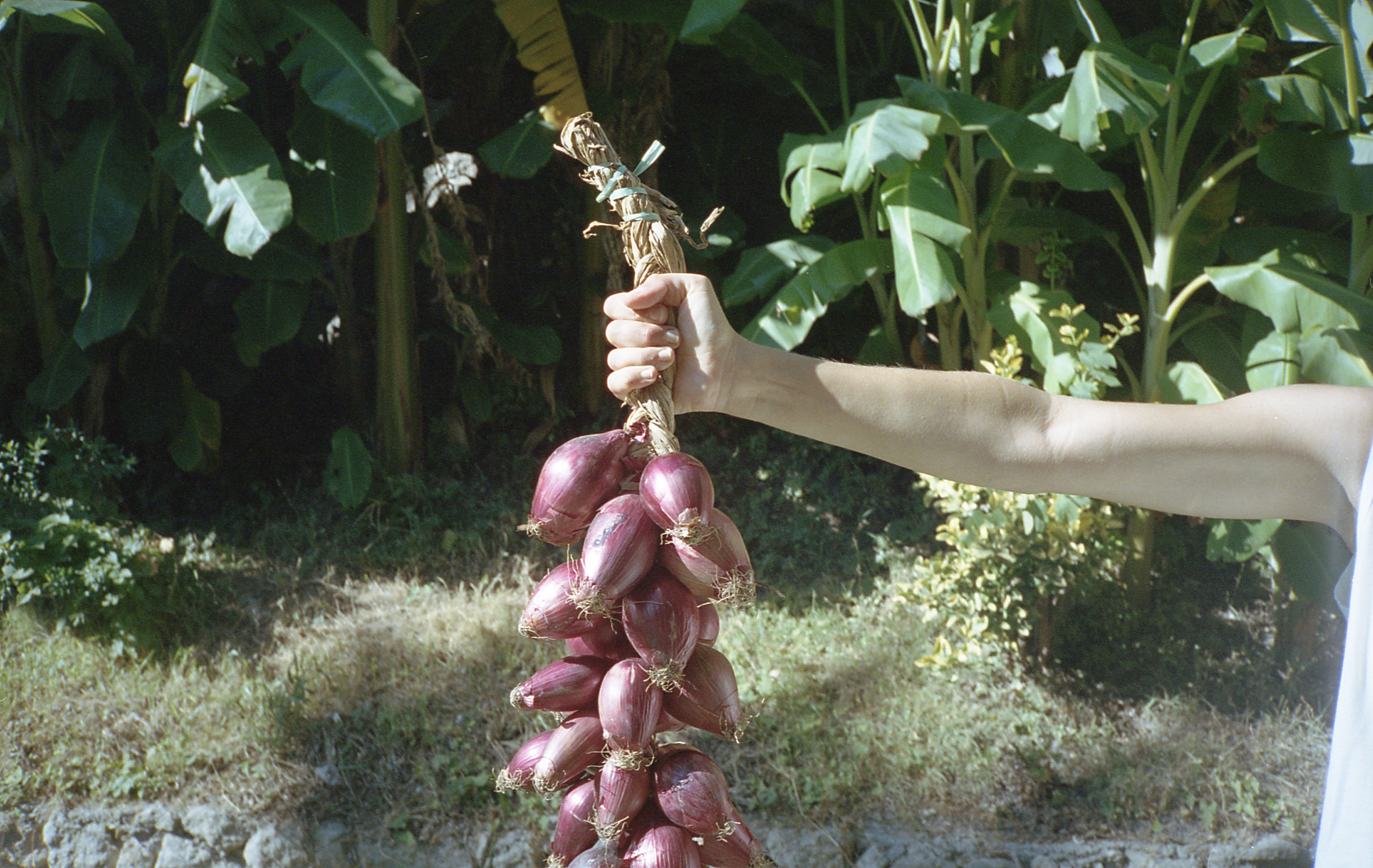 Events: Performance, Workshop & Panel

On September 21st at 2pm we will celebrate together
The Onion Dance
, lead by Tess Murdoch, an experience that will challenge your observation and sensory perception.
We will then explore together the colors of the onions in a workshop lead by the collective of the show, with a focus on
itajime,
a Japanese pressure resist dyeing technique
,
dyeing technique lead by Terumi Saito. Participants will receive a silk scarf and a natural dyes zine.
Finally, we will have a panel in which the artists will discuss their work for this exhibition, while we enjoy refreshments and snacks.
Access to the exhibition and participation in all the events is free and open to the public but space is limited so participants will need to RSVP beforehand.
For confirming your participation, please click
here
.
"Eat the onion, you can bite it like a tomato"

This is what I was told over and over again, during the summer of 2015 in Amantea, a little town in the south of Italy, in the region of Calabria. I was there for La Guarimba, a short-film festival that seeks to bring the people to the cinema and the cinema to the people. Besides watching films and going to the beach, the organizers planned different acitivites that promote local culture. During these days in Amantea, the importance the Calabresi gave to their local onion, known in foreign lands like the Tropea onion, made me curious about the colors its skin could give.

One year later, I found myself answering this question to myself and to many others who also wanted to find out. I knew the locals relationship with the onion was noteworthy, but I was not ready to hear people saying they were a "fan" of the cipolla rosa, which is exactly what happened. Repeteadly. This moment was instrumental in my understanding of the power of natural dyes, not as a source of color, but as a tool to connect with our surroundings, our history, our culture, ourselves.


Many plants can be used for color, but the beauty of using onion skins is that they are virtually free: you can collect them by cleaning the onion box in your local supermarket. They also grow in many places around the world, thus carrying many years of human-kind's history.

Since October 2018 a group of 4 students has been with Fragmentario exploring natural dyes, textile experimentation and meeting a range of inspirational professionals from the design and textile world. By accident, I discovered that they each came from a country that was a top onion-producer. This started many questions amongst each other: what role do onions play in each of their culture? in their past? their present? their future? how could they explore this through textiles and audivisual work?

Onion Society seeks to answer these questions.

María Elena Pombo / Fragmentario
Onions & Avocados at La Guarimba (2017)

Film by Lavinia del Croce (class of 2017) from Southern Sofa Film Factory


Fragmentario Radio

What is the sound of southern Italian onions?

Playlists by Michele Condo (class of 2017) and Martina Bruni (class of 2016) in 2017 exploring Italian culture.




Onion Society: Class of 2019
Different views on creating original textile work using onion skins collected from local supermarkets, as well as audio-visual material exploring the artist's processes and ideas behind their works.
Inspired by the universality of onions throughout human-kind's history.
Onion Society
will be presented in August at La Guarimba Film Festival in Italy and will have it's North American Debut in New York in September during New York Textile Month.

Class of 2019: Terumi Saito, Liuxu Luo, Fragmentario, Tess Murdoch, Samyukta Easwaran.




Yinyun-氤氲 (Layers of the onion)

Yinyun(氤氲) in Chinese is used to describe feeling of being enshrouding, like how onion skins cover each other layer by layer. Derive from it, Luo developed a set of onion-skin-dyed layered garments, creating pleats, and making ornaments on them by applying onions cells-like (inspired on her high school science class) laser-cutting pieces. Pieces of clothing with all green, pinky and yellow colors are solely from onion skins dye, using different mordant. Some of the works are learnt from the shape of Chinese traditional layered costume, and imitating the beautiful process of how people slowly put them on, aiming to finally present and dress them in Luo's own ritual and Yinyun way.

Liuxu Luo

Instead of solely pay attention to textile design itself, Luo has the most strong interest in reading, fiction, historical books, comic and even film scripts are included. Also she has got a passion in painting, watercolor especially and making handicraft for her friends since very young. She sees herself as a collector who can never help being fascinated by beautiful tiny things like handmade materials and tiny antiques. Sometimes she picks a lot of -what people call- Garbage but in which she sees plenty of possibilities. She started doing embroidery as another way of drawing, using stitches to add color and texture layer by layer. Now thanks for learning nature dye skills from Fragmentario, her works get another strongest layer in the context of nature color and culture connection.

Luo's project was a semi-finalist for the

Dorothy Waxman Textile Design Prize

in 2019
Onion Dance
I see cloth making as a type of conversation between materials, between fibers and in this case, between fibers and an unexpected dye stuff. Onions skins happen to yield a vast array of color: ranging from deep greens, bright yellows to earthy pinks. With my woven panels, I wanted to explore new kinds of conversations between color and cloth by using only onion skin-dyed warp and weft yarns. Onions have one of the richest histories in oral and written language, often appearing in folklore, myths and legends from every corner of the world. Can salvaging every part of them enrichen our dialogue with these ancient vegetables? I think so, and I hope to challenge the viewer by asking them to participate in touching the cloth, thinking differently about its usage, and by interacting with an onion in a more playfully interactive way that deepens our relationship past one of just consumption.


Tess Murdoch
Tess Murdoch is a textile designer, artist and most recently, part of the first cohort attending Parsons School of Design's MFA in Textiles program. She grew up in Los Angeles where she attended fashion and textile programs throughout high school and later received her BFA in Drawing + Painting. She applies the languages of painting to her ever-expanding creative practice often challenging traditional modes of making and materiality. She currently resides in Brooklyn, New York.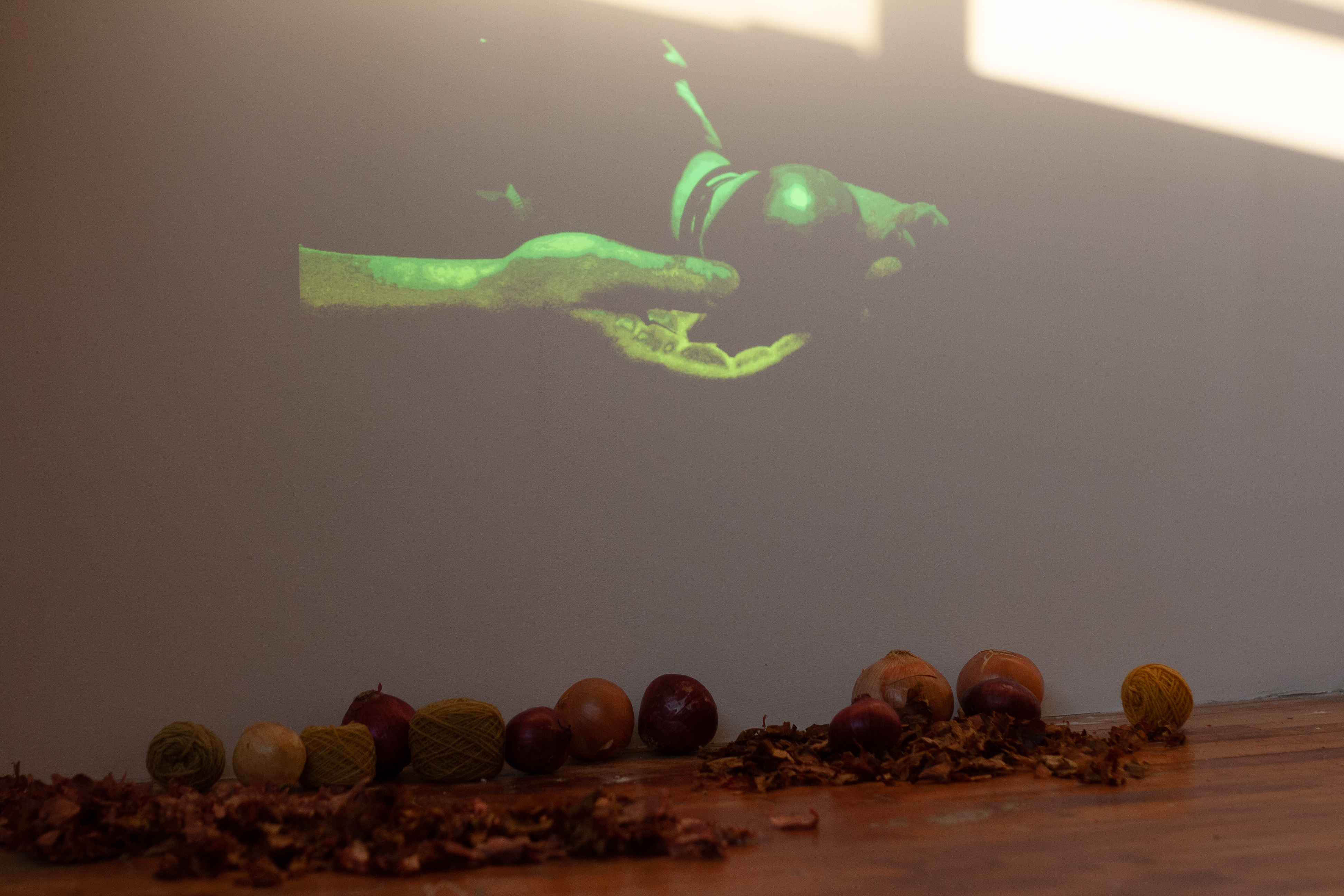 Onion room - Zanzou
Onion room - Zanzou is a project in which I seek an afterimage of onions. In Japanese, "Zanzou (残像)" means a visual sensation that persists after the stimulus. I am incorporating " itajime", a Japanese pressure resist dyeing technique, to create Furoshiki (a traditional Japanese wrapping cloth). The fabric is tightly sandwiched between wood pieces before dyeing, and the compressed part remains undyed. This undyed portion on the fabric is "Zanzou" of the onions. Works will culminate in an installation "Onion room" memorializing onion skins used for the project.


Terumi Saito
Terumi Saito is a Japanese mixed media artist. Her creation practice incorporates various materials and methods from fiber art to painting and performance. Objectifying her voice as an art piece is a significant method to communicate with others. Terumi received her BFA in Graphic Design from Tama Art University in Tokyo, and currently pursuing her MFA in Textiles at Parsons School of Design in New York.

ONION - GENDER - CLOTH
Onions have a strong reaction to our sense of sight and touch. I wanted the cloth to bring the same interaction through simple ways of color and fabric manipulation. One man's trash is another man's treasure, and in this instance, the cache is olive color derived from onion skins. Alongside waste material, by using cloth, I approach the equation I have with water and waste through ice dying and reusing of old dye baths. Since the most active association with onion is home and culture, I've dyed 5 yards of cotton fabric that was pleated and draped unconventionally from its traditional Indian style. The Dhoti (for men) or Sari (for women) is a single piece of cloth that is styled and worn through methods of pleating.The intention of using a man's garment is to bring a dialogue in association with gender and cloth. Ultimately, the fabric is the same dimension of a sari, so why hold gender norms with something as simple as textile?


Samyukta Easwaran
Samyukta Easwaran's work is an amalgamation of hues, silhouettes, natural dyes, and the manipulation of fabric. Her work is an expression of her mind through various textures, colors and textile craft practices. An integral part of her creative process in an admiration and consciousness towards traditional craft, ethnic inclusiveness, the environment and social sustainability. She brings inspiration from her experiences and learnings in visual communication and fashion that resonate in her textile work.

Issue 00
Issue 00 was founded by Leslie Friedman and Noé Arteaga to facilitate dialogue between artists, makers, and the creative community. We offer an inclusive environment that encourages discovery and new relationships. We host art exhibitions, performances, and other public events. Issue 00 is also the home of the monthly figure drawing salon Golden Hours.

Established in 2018 and currently residing in an airy loft space in East Williamsburg, Brooklyn, Issue 00 seeks to collaborate with passionate groups and individuals by offering a platform for creative expression.
María Elena Pombo
María Elena Pombo works under the monicker Fragmentario to start conversations about time, culture and collective consciousness by using textiles, video, photography, sound as well as creative immersive installations.

Pombo has shown her work and taught workshops on textile experimentation in Europe, Japan and the USA in unexpected venues, like a rice-cracker factory in Japan, a film festival in Italy and SXSW in Texas and the Brooklyn Botanic Garden.

With her work, Pombo hopes to inspire others to question and create.


Onion Society during NYTM at Issue 00 (2019, September)
Onion Society during NYTM at La Guarimba Film Festival in Italy (2019, August)