New York Restoration Project
New York Restoration Project
(NYRP) is a non-profit organization driven by the conviction that all New Yorkers deserve beautiful, high-quality public space within ready walking distance of their homes. Since their founding in 1995 by Bette Midler, NYRP has planted trees, renovated gardens, restored parks, and transformed open space for communities throughout New York City's five boroughs. As New York's only citywide conservancy, they bring private resources to spaces that lack adequate municipal support, fortifying the City's aging infrastructure and creating a healthier environment for those who live in the most densely populated and least green neighborhoods.
In 2017, Fragmentario was awarded two grants by NYRP to host two botanical-dyeing workshops in their gardens.
Dyeing with Onion Skins Workshop at McLeod Community Garden

This large, multi-lot garden is a much-needed green space in a largely industrial area. In 1999, New York Restoration Project (NYRP) made the site accessible by performing environmental remediation to remove toxins from the site. Since then, the garden has flourished with active community involvement – now serving as a fully-functioning green space for the enjoyment and benefit of the surrounding neighborhood. Re-opened in 2007, the garden is now busy with neighborhood gardeners who produce a bounty of herbs and vegetables, including cabbages, tomatoes and collard greens. Design features include gravel paths, vegetable and ornamental planting beds, a wisteria-covered gazebo in the garden's center and an area in the back for grills and tables for food preparation and family-style dining. NYRP also planted trees and shrubs, including a grove of graceful river birch that accentuate the garden's frontage. In addition, the garden features a pear and apricot tree, blackberry bushes, lavender beds and a variety of grasses and rose bushes. McLeod's Community Garden's large gathering space also makes it an ideal location for neighborhood school groups to use the site for nature explorations and other educational activities.

Last Saturday we spent the afternoon in the beautiful McLeod Community Garden in Brownsville in Brooklyn. It was a very special moment in which more than 50 people congregated to celebrate the colorful secrets plants hold, summer and community.
We had some special visitors, twin sisters Mary and Martha, whose sister founded the garden many years ago, as well as former intern
Layne
, who came help just weeks before her move to England. Even my grandmother was there! She is currently visiting from Venezuela and thanks to the many volunteer translators we had during the workshop, she now believes everyone speaks Spanish in Brooklyn.
This workshop was made possible by a grant from the
New York Restoration Project.
Not only do they provide space and support for community gardens in all boroughs of NY, these gardens are open for events hosted by non-members (like myself. They are still awarding grants for the rest of the summer. For those interested, you can learn more information
this link
, or get in touch with Sofia Balog (
sbalog@nyrp.com
), NYRP's Community Engagement Assistant, who was so helpful in organizing this event.
Onion Sounds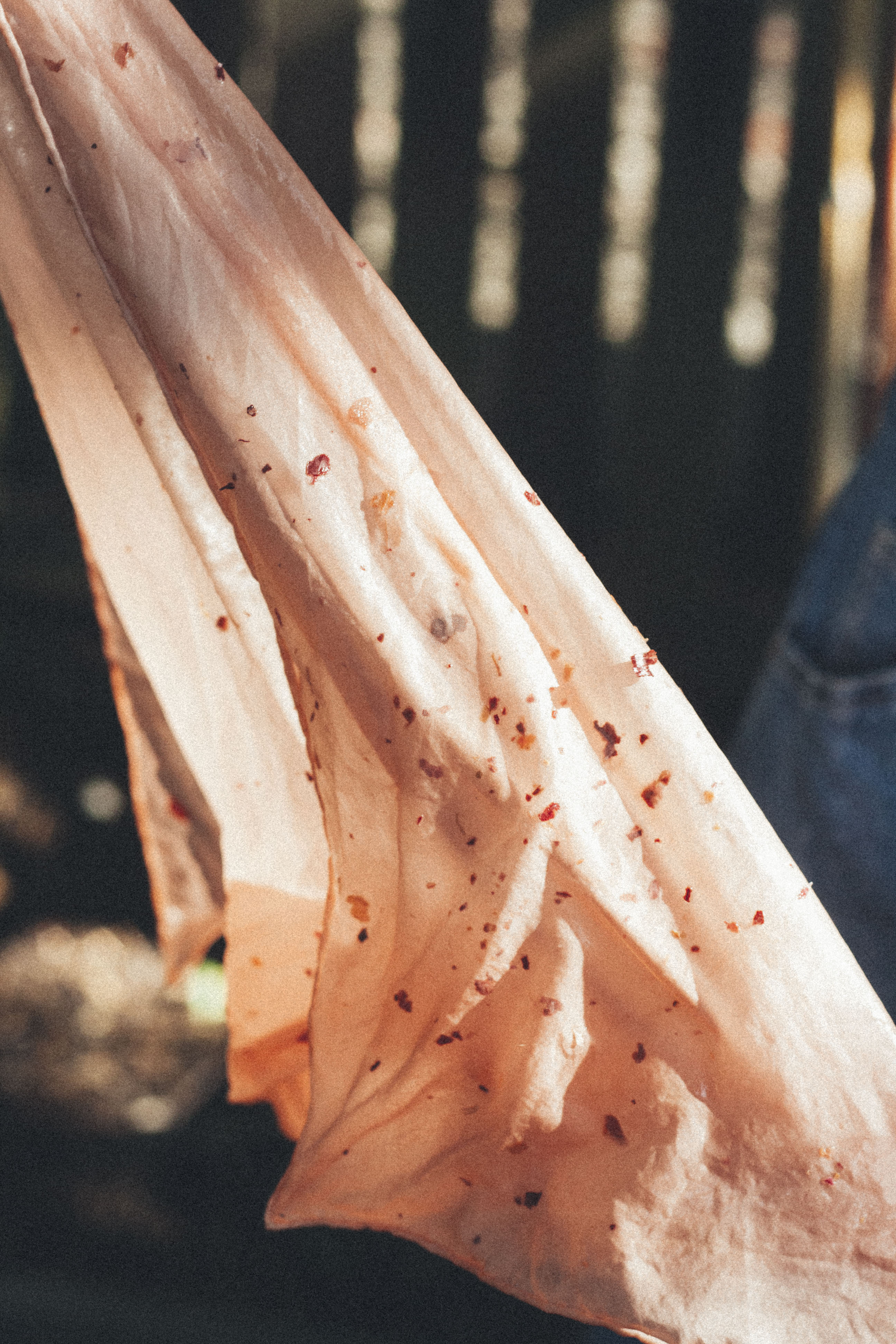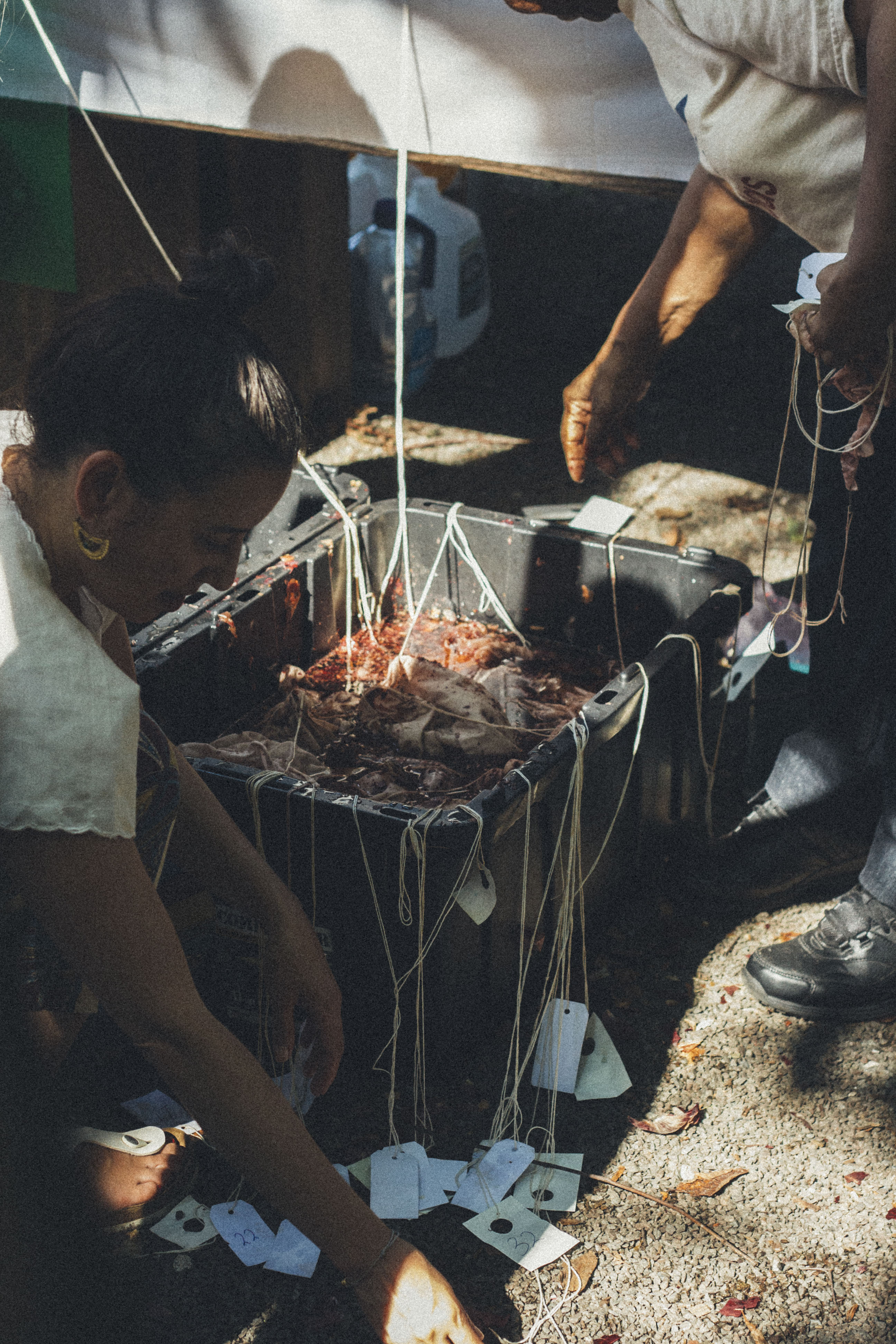 Dyeing with Flowers at xxx

GARDEN


WORKSHOP